The Ojibwa Artist Naturalist


My Great-grandparents originally came from a reserve in Ontario. They moved to Michigan and their descendants, including myself, became members of the Keweenaw Bay Indian Community. Rose's Native Stuff has a lot of information about my tribe, although she hasn't updated the site recently.
As a child, my family often visited relatives on the "Rez" and when I was 14, my mom moved us back there permanently. In Zeba (the part of the reservation where my Mom grew up), I learned about hunting, rabbit snaring, and fishing from my relatives, especially my uncles, and was exposed to more of our tribal values and customs.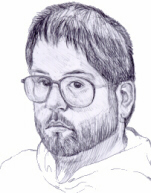 Later, I got a degree in Illustration at Northern Michigan University but didn't go into art professionally. Instead I went back to school and earned a Master's degree in Guidance and Counseling. I didn't draw for about 5 years until I became a social worker, and drew after home visits for relaxation. Soon I became very interested in botanical and naturalist art and now all of my work reflects these interests.
Since high school, traditional teachings has greatly increased my respect for the natural word. I carry with me some of the belief that everything is alive and has a spirit. When I draw something, I naturally draw from both the western naturalist and the native tradition. This kind of synthesis of two belief systems is what my art is all about.
Now I have two amazing boys who I take with me out in the woods, lakes, and fields. Although they're not into plants and birds like I am, I share their wonder and curiousity about reptiles (including Charlie, our pet Ball Python), amphibians, and other animals. This is their introduction into my tribal and family tradition of loving the natural world.
Return to the Ojibwa Artist Naturalist Home Page
---
This page and all artwork Copyright 2000 by Michael Sherman and last updated February 24, 2000