MEMBER
of the POD
Dedicated to North & Central Michigan Birdwatchers
---
Northern Michigan Birding Registration
If you are a birder residing in North or Central Michigan and wish to participate in our message board, please click on pen to register.

---

---
Keith Saylor
Website Administrator
4042 US 23 South
Alpena, MI 49707
---
Thursday, March 12 1998
Check our Stats: Webtracker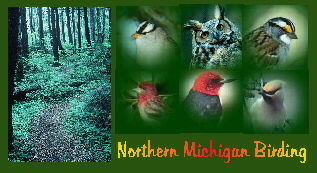 www.Northbirding.com
---
New Members
Carol & Tom Backers - Kalkaska County
Chris Hamilton - Midland County
---
Website News
Organized Chat Schedule
Tuesday's

8:00 - 9:00pm

Friday's

8:00-9:00pm

Sunday's

2:00-3:00pm
NEW!!!!
Favorite Birding Sites Database

This is just the beginning! Please email me the locations of your favorite birding site so I can add them to the database.
---Keith Saylor
---
New Navigation Bar
I've added a graphical navigation bar instead of the text based menu. Go to the Help Kiosk for a description of the icons.
---
New Website Help Kiosk
The Help Kiosk is a new set of web pages that give info about our website. New topics will be added in time.
---
The NMB sightings for SPRING 1998 are now in database form. Click on "tracking" link to enter the spring sightings of NMB members.
---
Chat News
I'm going to dedicate myself to attending the chat's for the next 4 weeks. Let's see if we can get a crowd at the chats!! ---- Keith Saylor (Website Admin)
---